Childhood is filled with anticipation for the ten minutes after class when kids can run and jump, play games with peers, and weave dreams with handkerchiefs. To provide a fun activity space that accommodates these needs, we aim to help children create a playful environment where they can freely engage in these activities.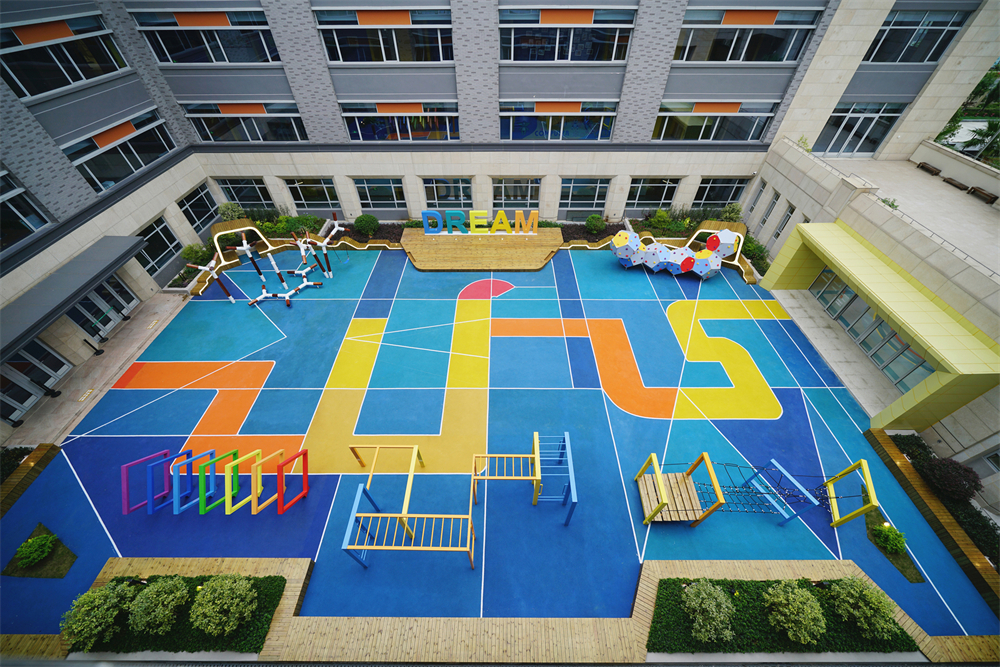 Our goal for the space layout is to make it as open as possible, providing a place for inter-class games and activities, as well as allowing lower-grade children to do inter-class gymnastics or participate in outdoor activities. To achieve this, we have designated the central area of the site as an open space, with game equipment on either side and resting seats, trees, and shrubs lining the walls. This design allows children to switch between dynamic physical activities and static rest and chat, creating a balanced and engaging environment.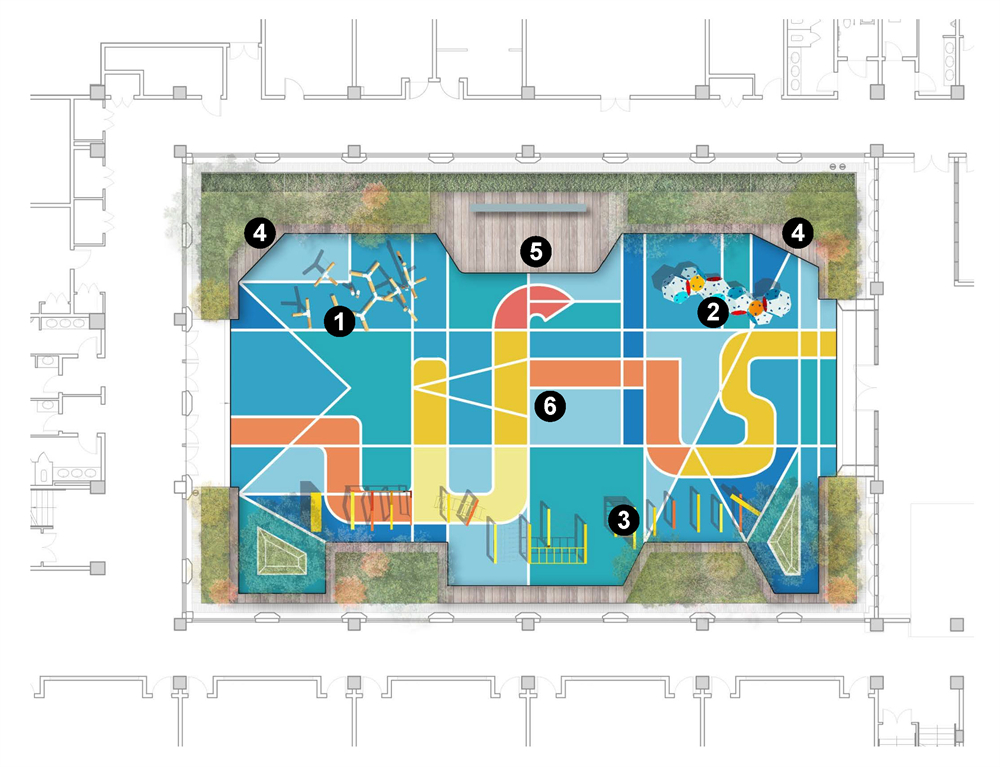 To carry on the lively and international spirit of Qingpu School, we have designed a vibrant and dynamic space, featuring contrasting blue and yellow colors. The ground activity venue incorporates the English abbreviation WFLS of Qingpu School, while the leading wooden platform showcases a three-dimensional character sculpture with the theme of DREAM, creating a unique WFLS dream song for students to enjoy.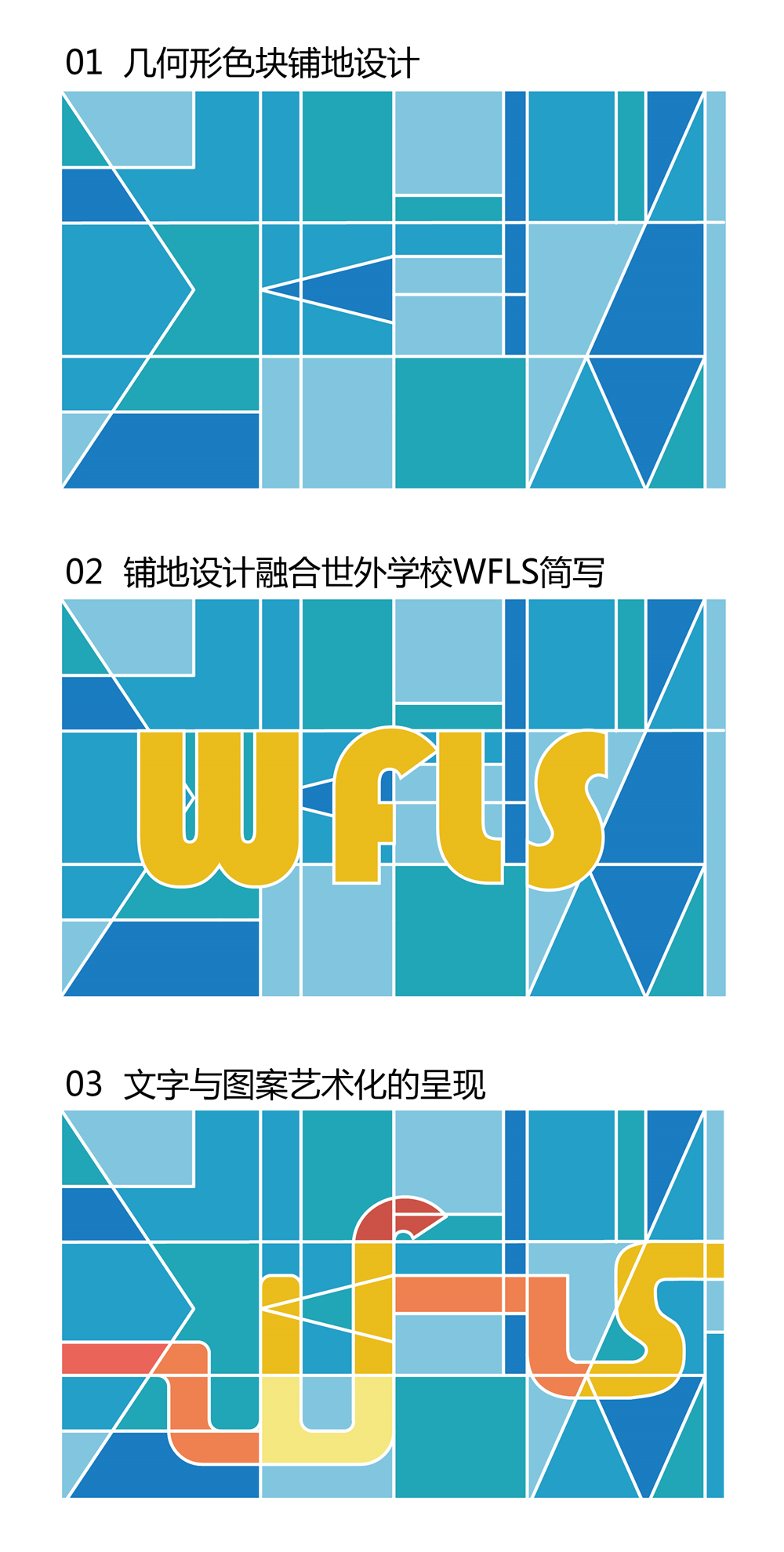 We have selected a variety of game equipment for the space, including tree structure facilities that combine swings, hanging ropes, and balance beams, as well as geometric structure rock climbing facilities and a challenging "obstacle track." Each of these facilities is designed with a unique fitness training theme to ensure children have access to a diverse range of physical activities.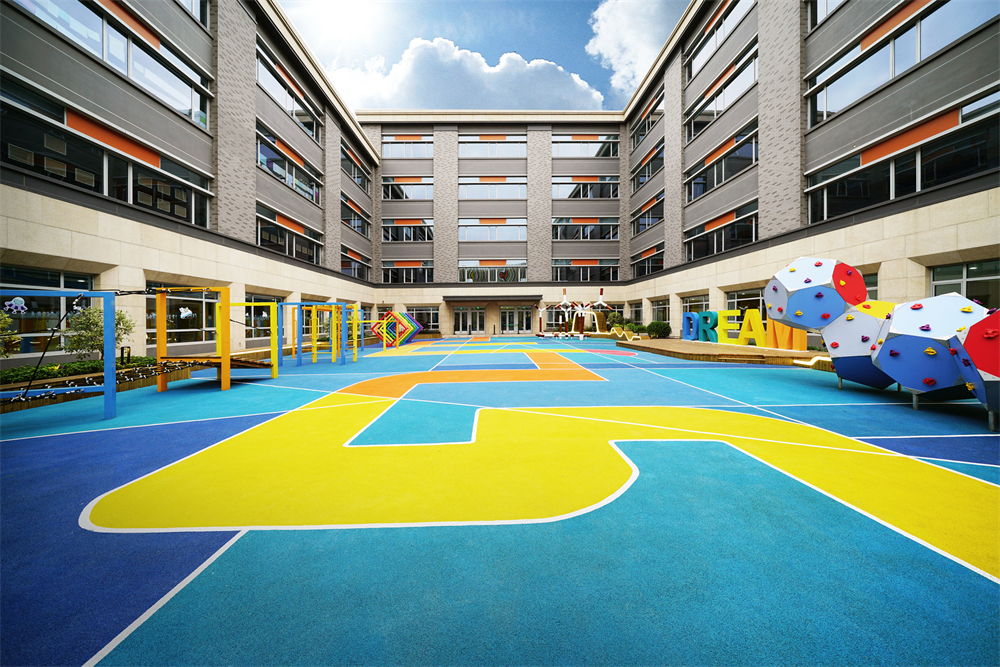 The wavy high and low seats are not only visually dynamic, but also provide children with a variety of seating options, including sitting, lying, standing, leaning, and group activities, allowing them to choose the way they rest and interact freely.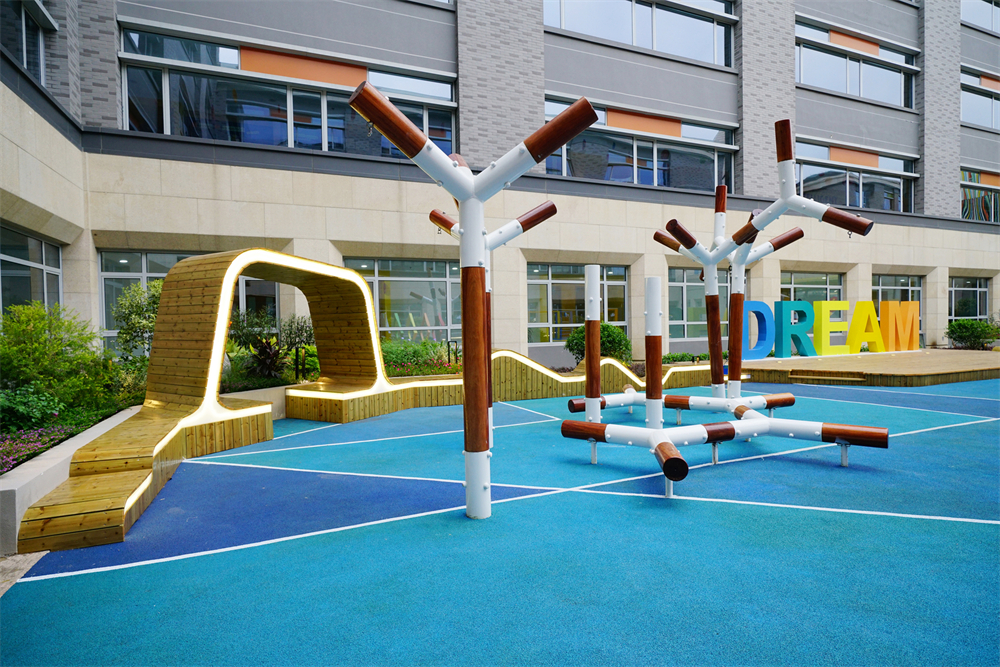 The atrium serves an important function for inter-class gymnastics, and the leading exercise table featuring three-dimensional characters DREAM and lively ground lines create an enjoyable game-like atmosphere for children to engage in gymnastics during their break time.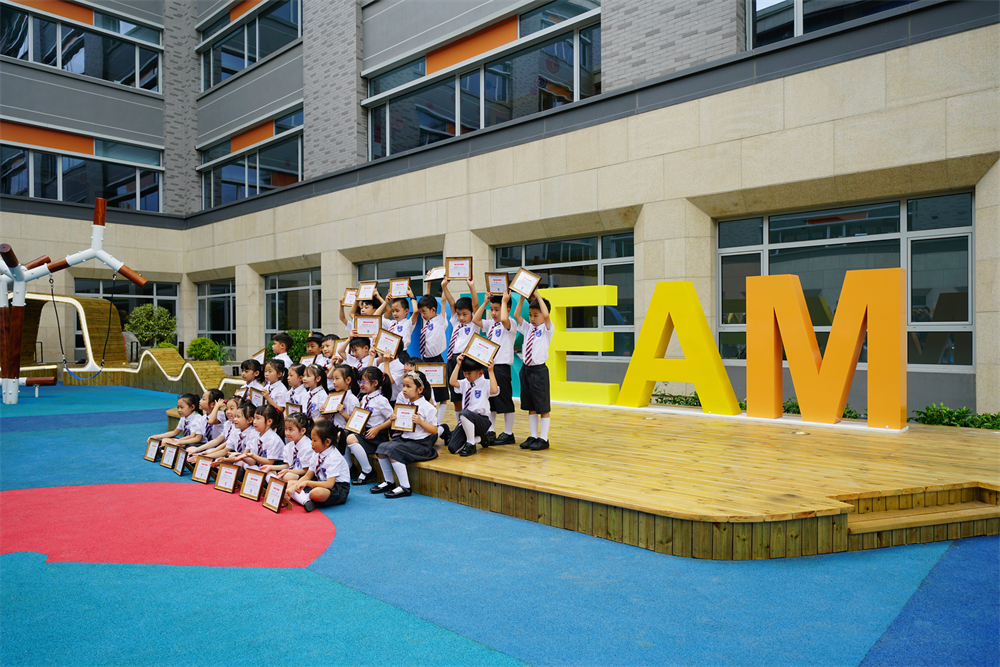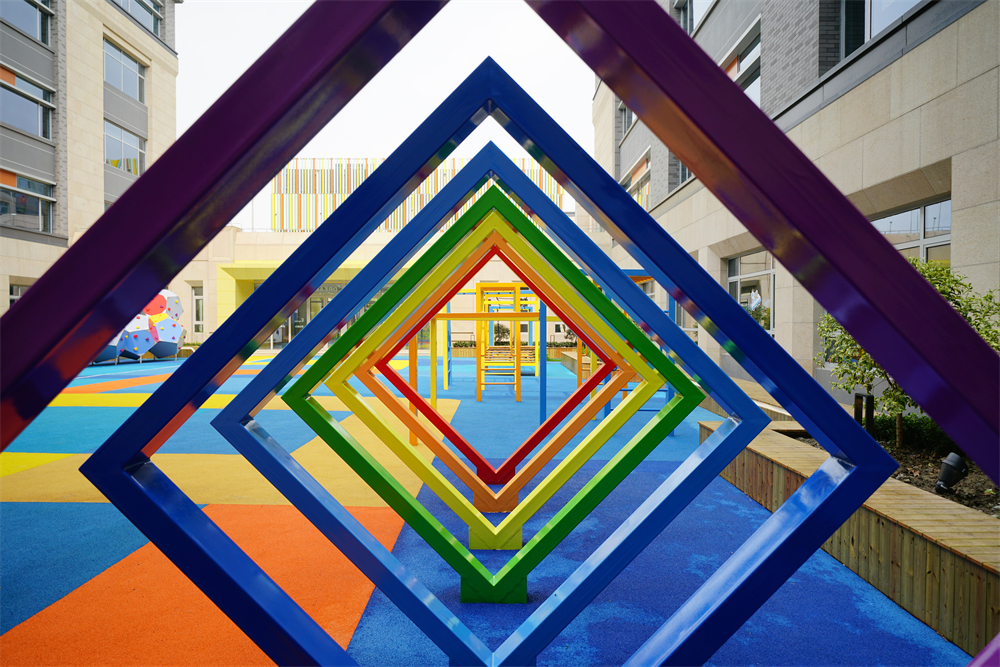 As the winter nights draw in earlier, we aim to bring the same level of vibrancy and energy to the campus night as during the day. The LED light strips on the wavy seats portray lively and smooth lines that light up the campus at night, complementing the DREAM three-dimensional character sculpture and forming a landscape that highlights the vitality of the campus.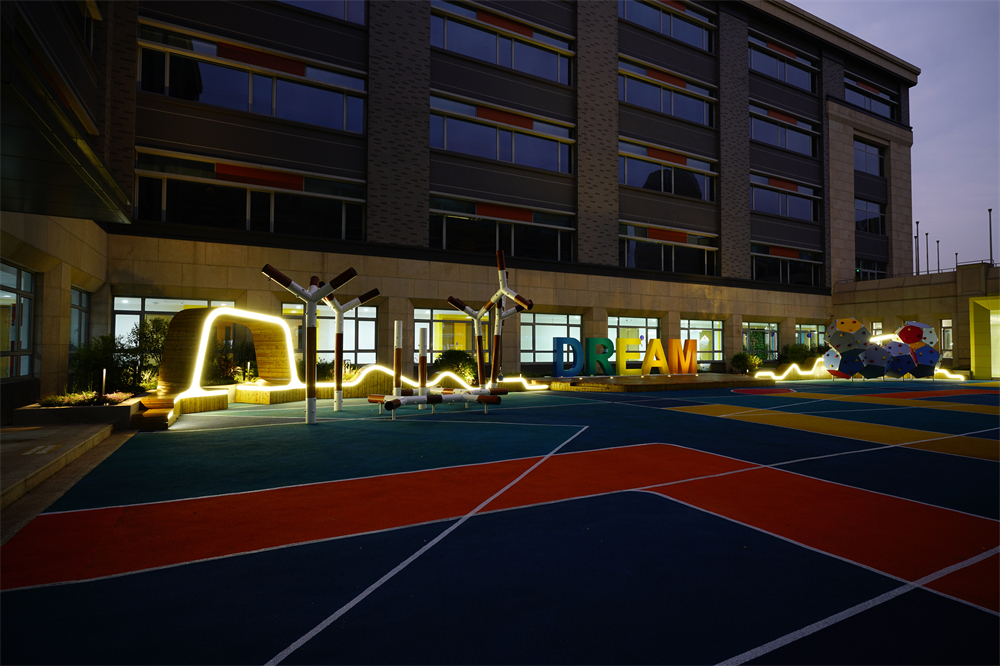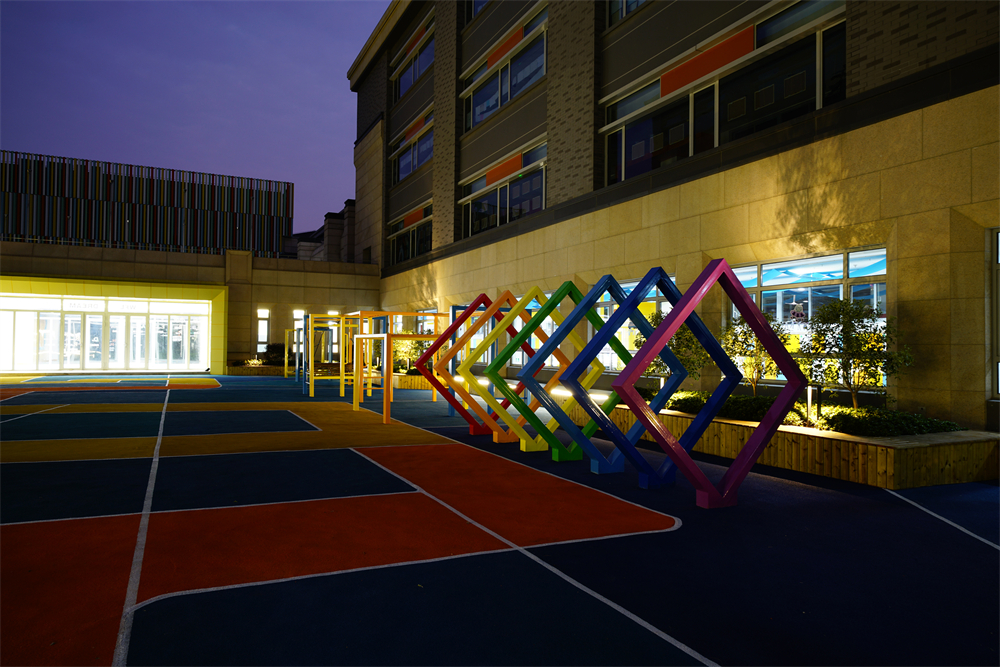 Location: Qingpu District, Shanghai, China
Area:800㎡
Status: Construction Complete
Design Finish Year: 2019
Completion Year: 2019