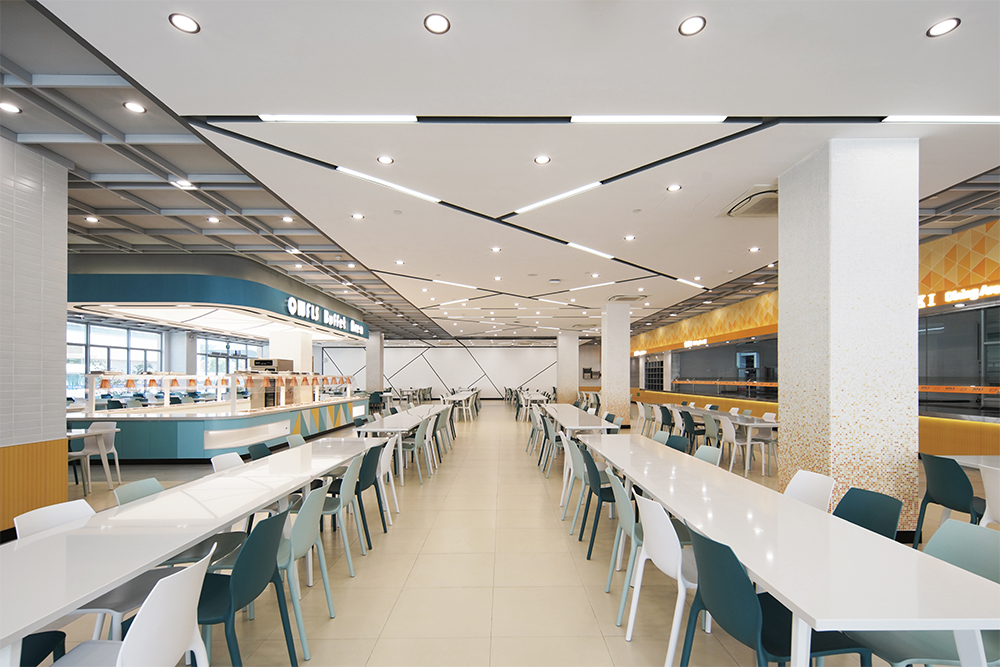 A good dining environment not only promotes healthy eating but also enables individuals to relax and disconnect from their busy work and studies. Modern campus cafeterias serve multiple functions, such as leisure, socialization, and life-long learning, which redefine the cafeteria's significance in campus life.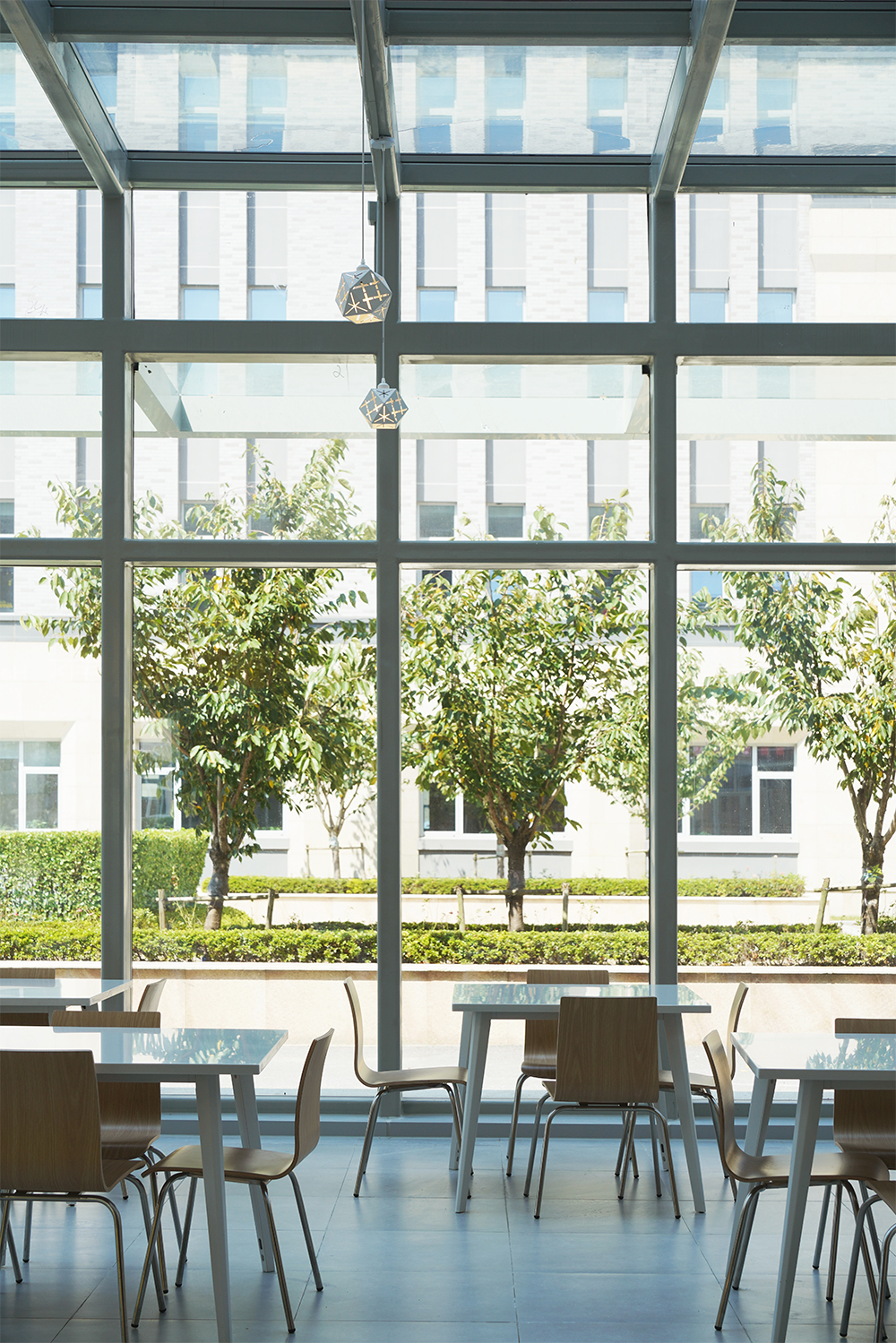 The goal of this space design is to transcend the conventional form of school cafeterias, by creating a pleasurable, comfortable, and welcoming living and educational environment that has more depth. Through a joyful ambiance, teachers and students can produce positive energy, thus making it easier for them to engage in learning and educational work.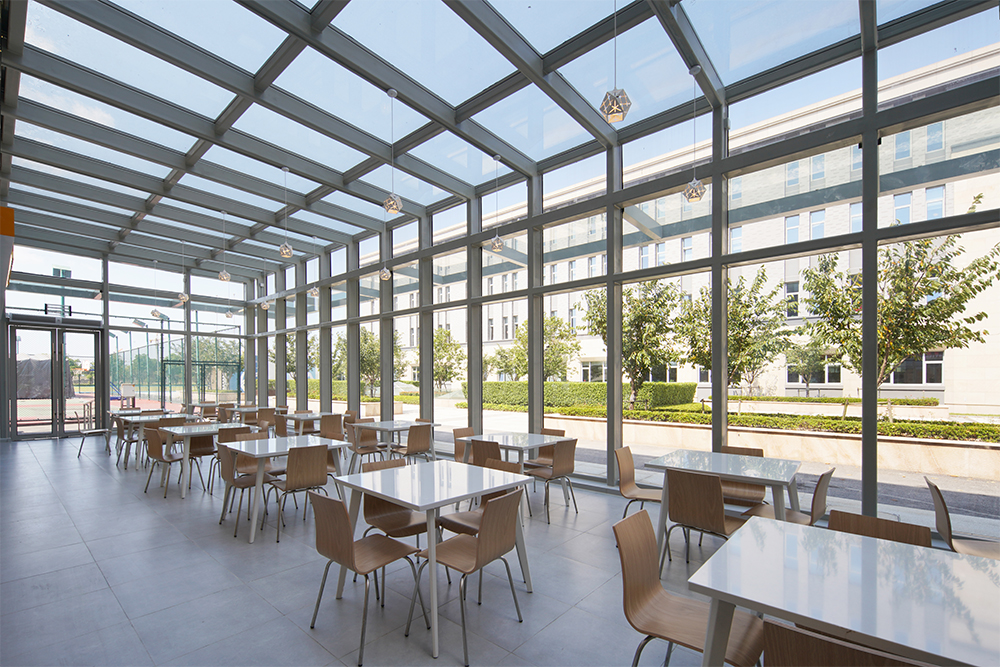 Regarding design strategy, we removed the thick stone curtain wall on the original building entrance to establish a dining area that benefits from natural daylight through a glass curtain wall and skylights, creating a cafeteria that is more transparent and brighter. The open view extends the greenery of the courtyard indoors, generating a more natural and informal atmosphere. Additionally, to diversify dining options for students and alleviate kitchen supply pressure during lunchtime, we added a self-service dining area, enabling children and teachers from elementary to high school to enjoy their meals efficiently and pleasantly during their limited lunch breaks.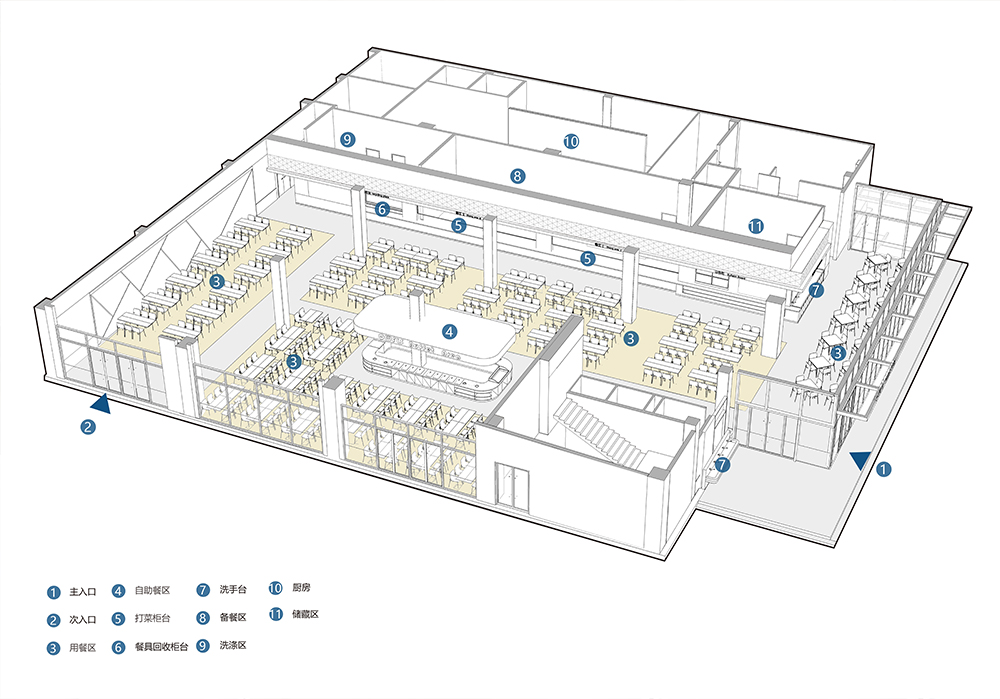 Life-education Cafeteria
The campus cafeteria plays a significant role in life education. Through processes such as hand washing, queuing, meal collection, dining, and tray recycling, children can develop a spontaneous and helpful attitude towards life. To this end, our design incorporates a hand-washing area and a menu display area at the entrance, as well as a tray recycling area outside the logistics dishwashing zone, guiding children to develop positive habits with a well-planned flow.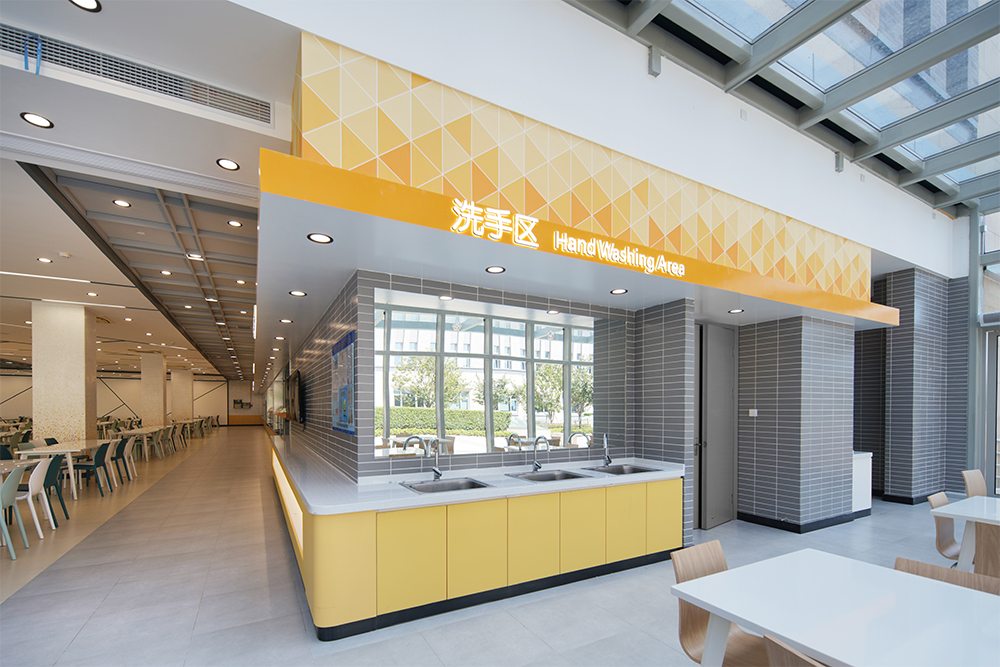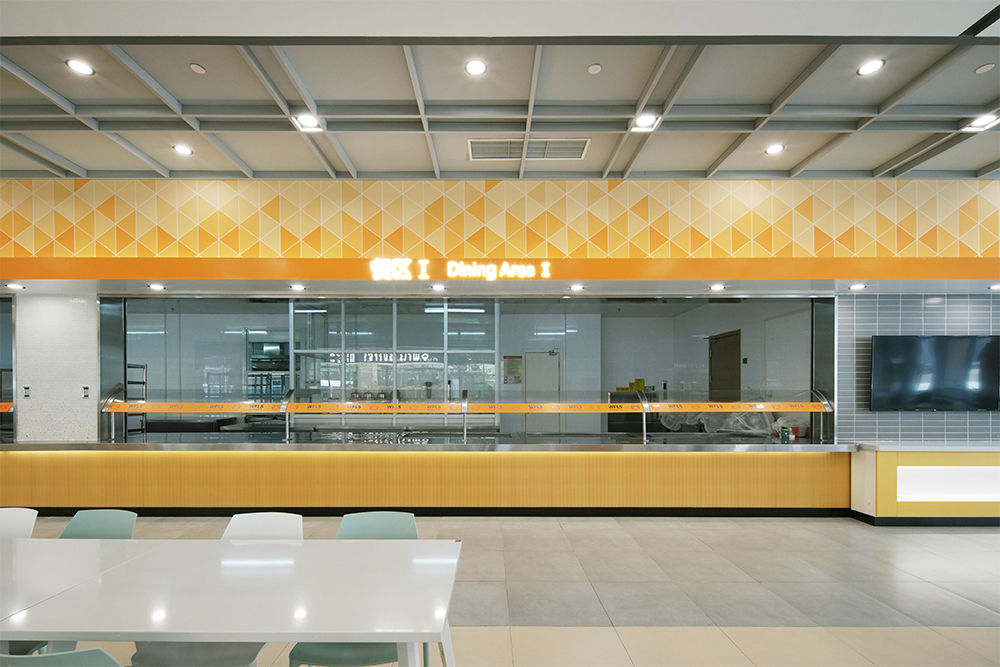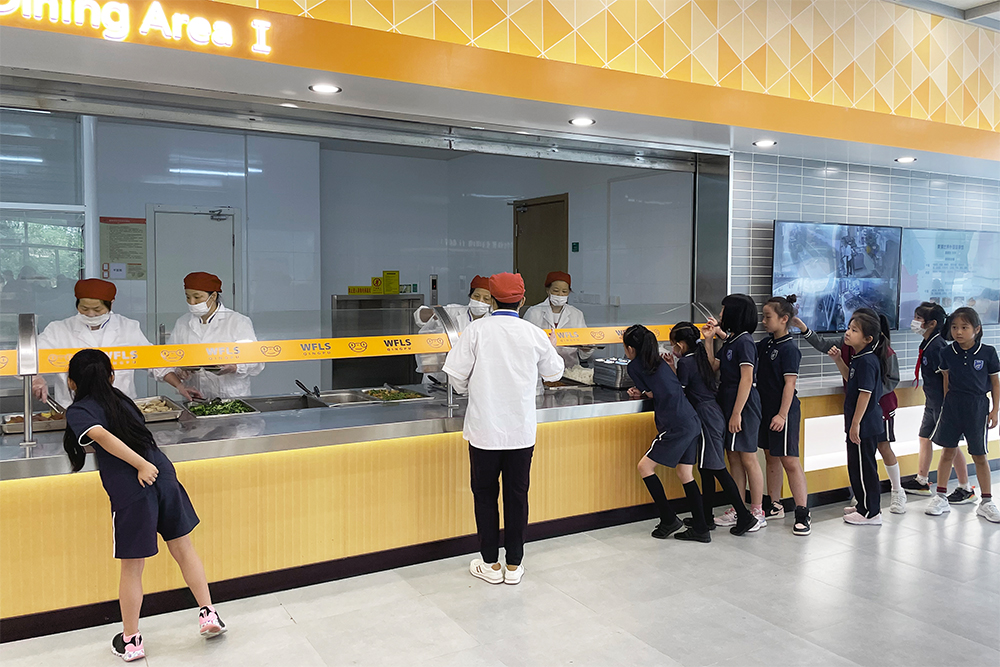 Energetic Cafeteria
In terms of design style, our aim was to create a dining space that exudes a sense of happiness and appreciation for teachers and students on campus, through a relaxed and dynamic expression technique. The overall space adopts a bright yellow and blue contrasting color as the basic tone, which not only highlights the meal-taking area to increase its functional identification but also adds a lively personality to the large cafeteria. Additionally, we have used diagonal lines and triangles to decorate the space rhythm, avoiding the dull feeling of large-scale repetition.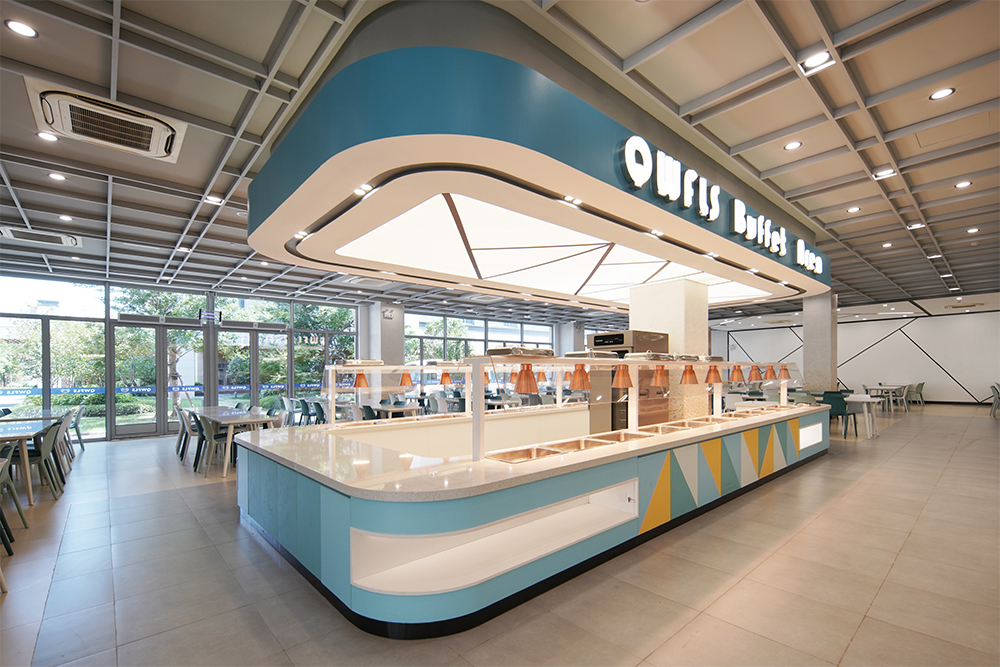 Caring Cafeteria
We prioritize creating a healthy and safe dining environment by taking into account the high density of people and large flow of traffic, as well as potential issues such as water accumulation, oil stains, and dirt. To ensure maximum safety and hygiene, not only must the layout of the cafeteria be reasonably designed, but the building materials used must also be easy to clean and maintain. Thus, we choose slip-resistant flooring materials for the kitchen and dining area, and countertops made of easy-to-clean materials such as stainless steel and artificial stone.
We also prioritize the warmth and freshness of the meals served. To this end, our buffet table design incorporates heat preservation and lighting, which not only looks aesthetically pleasing but also ensures that students and staff can always enjoy healthy meals.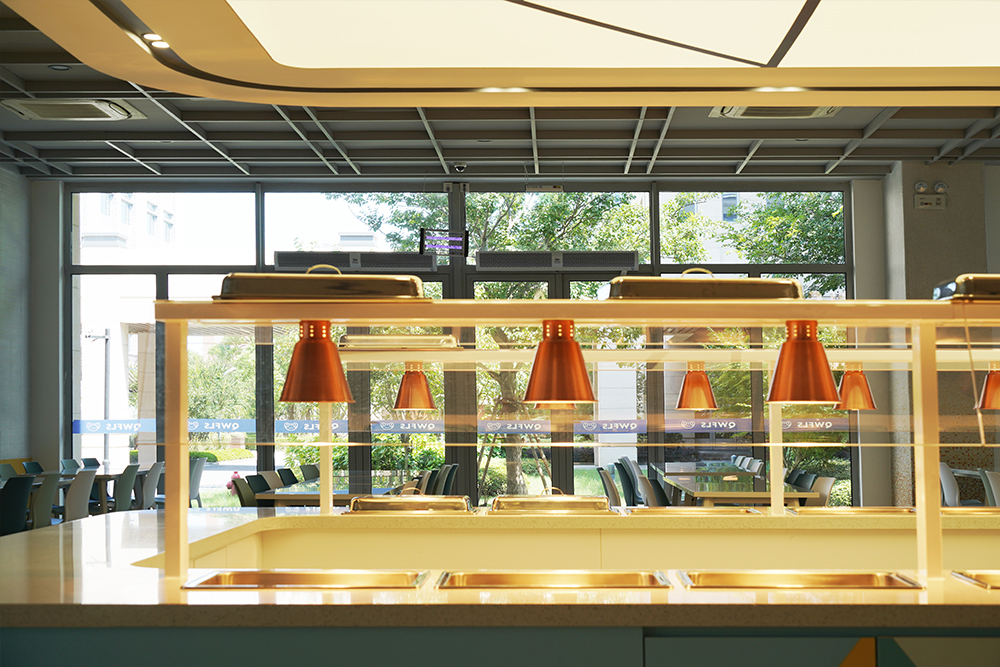 Multi-functional Cafeteria
The cafeteria's first floor, with its bright and spacious environment, is not only a place for meals but also serves as a venue for meetings and events.
The second floor is reserved for faculty and staff dining and is also used as a post-class communication area for teachers. The design aims to create a casual atmosphere for both meetings and everyday dining. In addition to a centralized dining area, there are also areas for relaxed seating and communication, a bar area, and private dining rooms that offer a diverse and rich range of experiences.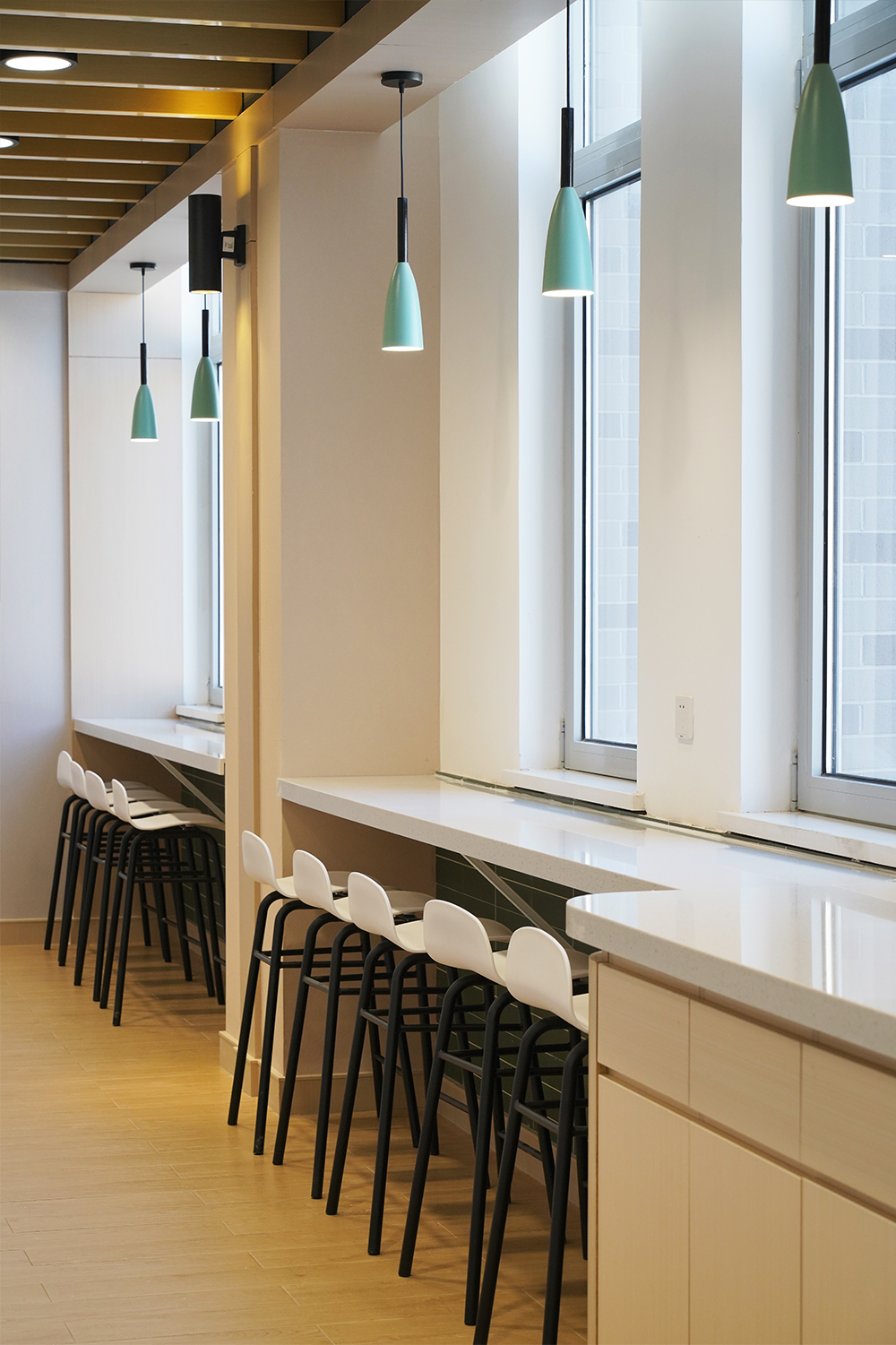 Location: Qingpu District, Shanghai, China
Area:970㎡
Status: Construction Complete
Design Finish Year: 2021
Completion Year: 2021